RESOURCES - MBA Fundamentals 2003
Edward G. Jones, adjunct lecturer at NYU School of Continuing and Professional Studies, teaches "MBA Fundamentals: An Overview" (see description). The course prepares students for graduate business school study. Utilizing a general college level business textbook, cases, and a team project, students learn the language and functions of business in a realistic simulation of the graduate business school experience during a 10-week semester.
For more information about this and other graduate school preparation and career development courses contact NYU school of Continuing and Professional Studies, click http://www.scps.nyu.edu/index.jsp.
WEBSITES:
http://www.businessschools.com

http://www.businessweek.com/bschools

http://www.review.com/business/
(Princeton Review)

http://www.kaplan.com
(Stanley Kaplan)

http://www.accepted.com
(Essay Writing and Application Strategies)
BOOKS

Your MBA Game Plan: Proven Strategies for Getting Into the Top Business Schools
ISBN: 1564146839

Marketing Yourself to the Top Business Schools, Carpenter, Wiley., 1995
ISBN: 0471118176

Applying to a Top MBA Program: From Decision to Admission-Interviews with Successful Applicants, Letteau & Goss, Gos Bryan, pub., 2000
ISBN: 0966394437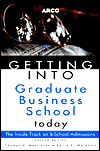 Getting into Graduate Business School Today, Martinson, ARCO., 1998
ISBN: 002862209X

Finding Your Way with an MBA: Insights from Those Landing Their Ideal Jobs , Cohn & Hudson, Wiley., 2000
ISBN: 0471383783

How to Get into the Right Business School, Strachan, NTC, 1998
ISBN: 0844264539


Essays That Will Get You into Business School, Kaufman, Barrons., 1998
ISBN: 0764106139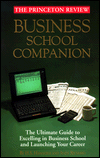 The Business School Companion: The Ultimate Guide to Excelling in Business School and Launching Your Career
ISBN: 0679764631
GUIDES


Kaplan Getting into Business School 1997-98
ISBN: 0684836890


Princeton Review Student Advantage Guide to the Best Business Schools, 1997
ISBN: 0679771255


Princeton Review: Best Business Schools (not available at BN.com - try a used book dealer!)


Barron's Guide to Graduate Business Schools
ISBN: 0812095596



Cracking the GMAT CAT, 1998 (Princeton Review Series)
ISBN: 0679778969


Business Week's Guide to the Best Business Schools
ISBN: 0070094225